Too many Australian children experience dental problems, such as tooth decay, at any early age.
Not only does regularly visiting the dentist help to minimise the presence of dental decay and disease among children, but it also encourages them to develop good oral hygiene habits, which improves their overall health and reduces their risk of serious dental issues in the future.
We understand that many children can experience feelings of anxiety and stress at the thought of going to the dentist. That's why at Signature Smile Dental, our primary aim is to provide a positive experience for your child.
Our practices in Sydney's south eastern suburbs offer a calming and welcoming environment for your child. Our gentle staff are there to guide your child through their appointment, ensuring that they feel comfortable and safe at all times.
What dental services do we offer to children?
Our dentist clinics offer a number of services for children to help them maintain healthy teeth and gums.
Here are some of the services that are available to children:
A thorough dental check-up to check for signs of tooth decay, cavities and other dental problems.
A professional teeth cleaning to gently remove plaque or tartar build-up and polish the teeth.
Fillings and fissure sealants to repair and prevent cavities in a quick and painless way.
A fluoride treatment to strengthen tooth enamel and protect against future decay.
Tooth extractions to remove a tooth that has experienced trauma or decay, or to prepare for upcoming orthodontia.
Orthodontic treatment, including braces and invisalign, to correct the alignment of the teeth.
As you can see, we offer a wide range of basic dental services and more complex procedures. No matter what kind of dental care your child requires, you can rest assured that our dentists will find the right solution for them.
How often should my child go to the dentist?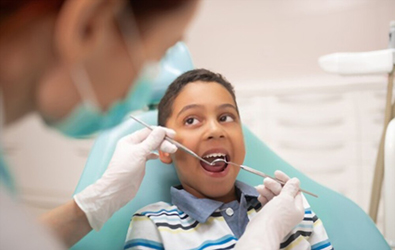 To support your child's dental health, it's recommended that, from the time their first tooth comes through, all children should visit the dentist at least twice a year. If your child is experiencing a dental issue, they may need to attend more frequently.
Not only do regular dental check-ups help to keep your child's teeth strong and healthy, but they also motivate your child to take a proactive approach when it comes to practising good oral health habits at home.
During your child's appointment, we'll give them advice on how to correctly brush and floss their teeth, as well as other tips and tricks on how to make oral hygiene fun!
How much will my child's dentist appointment cost?
The price of your child's dentist appointment will vary depending on their procedure. On average, a check-up will cost between $160 and $300 in Australia.
The good news is that most basic dental services, such as check-ups, x-rays, sealants and fillings, are covered by the Child Dental Benefits Schedule.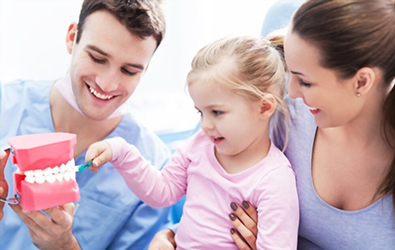 The Child Dental Benefits Schedule is a federal government program that provides up to $1026 in dental benefits for eligible children over a two year calendar period.
This means that parents of eligible children won't have to pay for many of their kid's oral health costs, provided that they don't expend this allowance in the allotted time. Contact Medicare to find out if your child is eligible.
Choose Signature Smile Dental for children dentistry
At Signature Smile Dental, we're a family dentist children love to visit. Over our many years of delivering great dental solutions for children, we've honed a unique approach that aims to empower your child to take control of their oral hygiene and adopt healthy practices for years to come.
We're committed to providing the best dental services for your child. We strive to make them feel comfortable and safe during their appointment, ensuring that they leave with a smile on their faces and are excited to come back!
If you're looking for an affordable dentist clinic to improve your family's oral health, book an appointment today at our local practice in Randwick or Sans Souci, or call us on (02) 9398 9398 to find out more.